2016 Fall Girls U8 Soccer. The Grasshopper Girls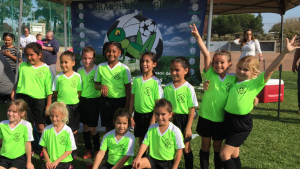 2016 BMX: Come out and ride all ages welcome. Bikes and safety equipment are provided.
2014 Summer Wrestling: Supporting those struggling with cancer. Pictured below Executive PAL Director, Officer Rob Martinez congratulating the kids (ages 5-10) for their achievement in completing a six-week session.  Coaches: Ted Pettigrew, Jim Wilks & Patrick Gucayan.
2016 FALL WRESTLING PROGRAM:
_______________________________________________________________________________________________________________________________________________
EXPLORER ACADEMY:
_______________________________________________________________________________________________________________________________________________
2011 PAL-GAL SOFTBALL:
_______________________________________________________________________________________________________________________________________________
2011 SHOP WITH a PAL PROJECT: