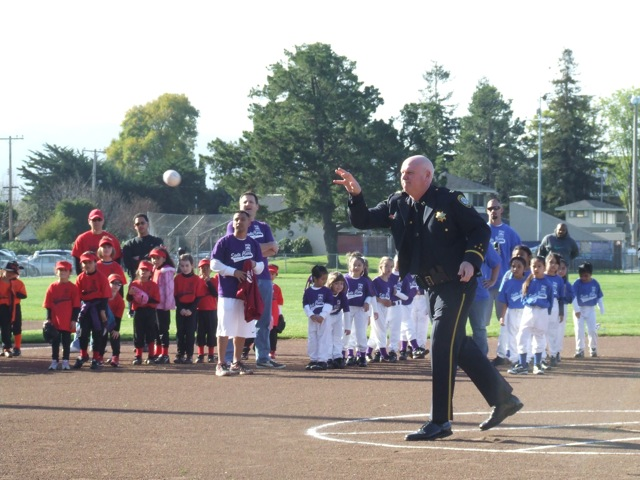 Sign-up to be a COACH: COACH'S APPLICATION
___________________________________________________________________________________
Sparks Travel Team Tryouts: Sparks_tryouts_flier
Stanford Game:Stanford April 19th Flier
PAL-GAL Softball 2015 Season:
Softball Clinic: Sunday, Feb. 22, 2015 at Marsalli Park  Please click hyperlink to view flyer: Softball Clinic Flyer
GIRLS, if you are between the ages of 5 and 16 and want to play softball, you should sign-up to participate in the Santa Clara Police Activities League's PAL-GAL GIRL'S SOFTBALL Program. Everyone plays and the practices are local. Games are held at Central Park, Henry Schmidt, Marsalli Field and Elmer Johnson. Season starts March 7, 2015 and ends sometime in May (TBA).
Girls participate in softball games played at Central Park and Marsalli Park. Last year we had over 240 girls sign up for this program. Assignment to leagues is based on age, from T-Ball to Majors (ages 5-16).  PAL-GAL Softball is dedicated to teaching girls and young women the values and rewards that can be accomplished through self-determination, belief in one's self, desire, teamwork and respect for others.
Visit the Santa Clara Pal-Gal Softball page at: Facebook.com/SCPalGalSoftball
Please email us your softball pictures to scpalsoftball@gmail.com and you just might see them on our Facebook page!
Click to read/print flier: 2015 Pal Gal Flier
2015 Season Division Schedules TBA:
Revised since 2014:  Players will be allowed to "move up" pending a tryout and approval of managers/coaches and Softball Committee.
AGES:
Girls 5-16  The season for T-Ball through Minors (ages 5-13) runs from March 8-through the end of May.  The season for Majors (ages 13-16) runs from early June to late July.
SIGN-UPS:
T-Ball, Farm, Rookies and Majors register from now 'til December 24, 2014 (at a discount) Last day to sign up is January 31, 2015 (T-Ball-Minors).  Majors register from December-April  24, 2015.
REGISTRATION:
Click here for 2016-Pal-Gal-Player-Application

Register at the P.A.L. Office from 1:00pm-5:00pm Monday thru Friday or call first 408.615.4879. WE accept MC/VI/Discover credit cards, fax, mail, or walk-in application with 3 FORMS below (Scroll down under the category labeled Forms) and a copy of child's birth certificate.
COST (Includes Uniform-Jersey and Socks, Awards, and Insurance):
$85.00 per player
$115.00 for players playing both Minors and Majors
$135 for two family members and $195 for three family members
Scholarships are available in exchange for volunteer work (Please call the P.A.L. office to apply; also documentation is required).
2015 LEAGUE INFORMATION / TRYOUT DATES:
T-BALL LEAGUE:    5 AND 6 years old.  Must be 5 years old as of 1-1-15.  Players not returning to the same team as last year will be placed by address location or by request.  Non-metal cleats are optional for T-Ball League only.
FARM LEAGUE:   7 AND 8 years old.  Must be 7 years old as of 1-1-15.  To even out teams, a limit of 5 girls per team will be placed on Team/Manager they request on application. No metal cleats.
ROOKIE LEAGUE:  9 AND 10 years old.  Must be 9 years old as of 1-1-15.  Every player (new and returning) will tryout and be drafted.  Tryouts for team placement, Saturday, January 24th, 9:30am – 11:30am (rain out date-Sunday, January 25th, 2014, 9:30am-11:30am) and Saturday, January 31st, 9:30 am-11:30am.  All tryouts are held at Marsalli Park. No metal cleats.
MINOR LEAGUE:  11-13 years old.  Must be 11 years old as of 1-1-2015.   Every player (new and returning) will tryout and be drafted.  Tryouts for team placement, Saturday, January 25th, 2014, 12pm – 2pm (rain out date-Sunday, January 25th - 9:30am-11:30am) and Saturday, January 31st, 12pm – 2pm. All tryouts are held at Marsalli Park. No metal cleats.
MAJOR LEAGUE:  13 – 16 years old.  Must be 13 years old as of 1-1-2015.  New and returning players not returning to the same team must attend the Major League Tryouts for team placement Saturday, April 18th,  2:00pm-4:00pm and Saturday, April 25th, 9:30am-11:30am.  Tryouts are held at Marsalli Field.  Practice begins in May; play begins in early June and ends in late July.  Reminder: No metal cleats.
Reminder – Important Note:Please wear plastic cleats and all catchers/pitchers bring a mitt when trying out.
Mandatory Parents Meeting:
Who Should Attend: PAL player's parents and PAL coaches
When: Tuesday, February 10th
Where: Performing Arts Center (next to Wilcox HS)
Time: 7pm.
Meeting Topics: Meet the PAL softball board, Snack Bar requirement, Code of Conduct, Important Events (Opening Day/Family Fun Day), Clinics, Tournament Team, and parents can meet with the managers.
For approved bats to use or purchase, see: www.asasoftball.com/about/getManufacturerDetail.asp
3 more FORMS: (please print and submit to PAL with your application for Coach)
Please fill out Emergency Contact Information Sheet: PAL Emergency Contact Form
Player Code of Conduct (Player must initial and sign): Pal-Gal Player Code of Conduct
Parent/Guardian Code of Conduct & Ethics (Parent/Guardian must sign): PAL-Parent-Guardian-Code-of-Ethics
Copy of Birth Certificate: If this is your first year with Santa Clara Pal-GaL Softball please submit a copy of the player's Birth Certificate or Passport information (for age verification).  This can be done by emailing a copy to the PAL Director at rmartinez@santaclaraca.gov, by faxing a copy to the PAL office at (408)-984-1407, or by stopping by the PAL office located at the Santa Clara Police Dept from 1pm-5pm, M-F.  Any information that is emailed or faxed it will be destroyed following verification.
PHOTO DAY: Please click link & bring to Photo Day: SVP_Sport_order_form_2013-14A  Please arrive 15 min. prior to your team's scheduled time
MANAGERS / COACHES:
ALL Managers and Coaches must take the mandatory ACE Test prior to the start of the season.  P.A.L. will reimburse the test cost of Managers and Coaches.
Go to: https://www.registerasa.com/Account/Login.aspx?ReturnUrl=/default.aspx
Helpful links for running a better practice:
http://www.softball-spot.com/fun-softball-practice-drills/103/
http://www.softballperformance.com/coaching-softball-how-to-run-a-bad-practice/
http://www.softballperformance.com/softball-drills/
CONTACT INFORMATION:
PAL Office 408.615.4880. FAX 408.984.1407
Skills/Coaches Clinic for all registered PAL-GAL players: Cost $10
Sunday, Februay 22, 2015 at Marsalli Field – Instructor: Kayla Henson
9:00 a.m. – 10:30 a.m. – T-Ball/Farm
11:00 am -  12:30 p.m. – Rookies/Minors
Sunday, March 1, 2015 – Pitchers and Catchers – Cost: $10
9:00 a.m. – 10:30 a.m. – T-Ball/Farm
11:00 am – 12:30 p.m. – Rookies/Minors
________________________________________________________________________________________________________________________________________________________________
2015 TRAVEL/TOURNAMENT TEAM:
Are you interested in playing softball this summer?
Tournament softball is for girls who want to increase their skills, and play at a more competitive level.  Tournament season is typically played May thru July.  The player and her family will need to commit to a minimum of 5-6 tournaments (depending on the division) throughout the summer.  There will be a fee of approximately $400 per player (for uniforms and tournament fees), and some traveling will be involved.  Also, parents are required to work at the Santa Clara PAL Softball tournament on May 30-June 1 at Mission College and Central Park. Try out dates and location will be in early May. Check back in April for tryout dates and locations.
For more information or questions contact – scpalsoftball@gmail.com
______________________________________________
2015 Santa Clara University Softball PAL GAL DAY: TBA
Admission is FREE only to the PAL-GAL girls who wear their PAL GAL UNIFORM!
_______________________________________
2015 Stanford Softball Little League Day 
DATE: TBA 
Stanford Cardinals vs. ?
Location:  Boyd & Jill Smith Family Stadium
Free Admission for all PAL-Gal teams that attend
On Game-day:
The Little League players, parents and coaches can attend the game at no charge. Softball players should wear their uniform shirt to be identified for admission. (All Stanford Regular Season home games are free admission but may not offer specific Little League promotions.)
Free Stanford Softball Posters
After the game, Stanford Softball invites the players to interact with them, where they can ask the Cardinal players questions directly and receive autographs. (This session will be limited to approximately 30 to 45 minutes.)
http://origin.library.constantcontact.com/download/get/file/1101968503969-677/Stanford+SB+Flyer.pdf
Field Permits – Link to City Website and issued Field Permits:
Santa Clara 2014 Field Permits issued by Parks and Recs
2015 PAL-GAL SOFTBALL CLINICS:
TBA
LEAGUE AND DRAFT RULES:
T-Ball League – Rules-T-Ball-Division-REV-1-7-2015
Farm League - Rules-Farm-Division-REV-1-7-2015
Rookie League – Rules-Rookie-Division-REV 1-7-2015
Minor League – Rules-Minor-Division-REV 1-7-2015
Major League – Rules-Major-Division-Rev 1-7-2015
Rookie League and Minor Draft League Rules – Rookie-Minor-Draft-Rules-REV-02-03-2013
Major League Draft Rules – Major Draft Rules REV 1-8-2013
FAMILY FUN DAY to be announced.
Link to Santa Clara Weekly story about 2011 Family Fun Day:  2011 Pal-Gal Family Fun Day
Link to Santa Clara Weekly story about 2012 Family Fun Day:  2012 Pal-Gal Family Fun Day