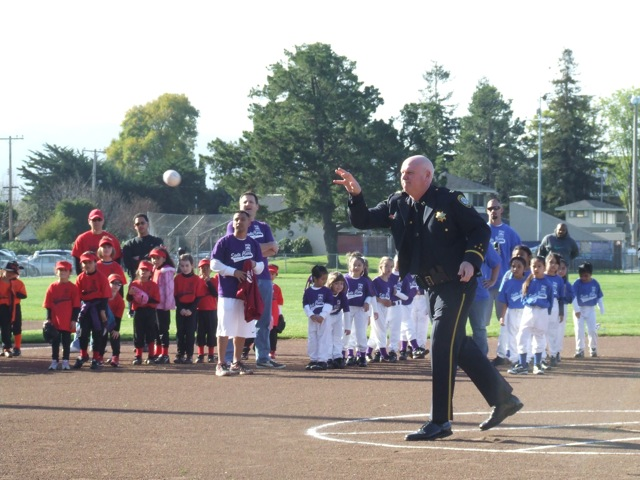 MARK YOUR CALENDARS! UPCOMING DATES
November 2016 – January 2017 – T-ball, Rookie, Farm and Minors sign-ups for Spring 2017 season Click here for flyer:2017-pal-gal-player-application
Specific dates and times will be announced soon…be sure to check back!
 WELCOME TO PAL GAL SOFTBALL!
GIRLS, if you are between the ages of 5 and 16 and want to play softball, you should sign-up to participate in the Santa Clara Police Activities League's PAL-GAL GIRL'S SOFTBALL Program. Everyone plays and the practices are local. Seasons generally run from March to May, with tryouts and practices starting in late January/early February.
Girls participate in softball games played at Central Park and Marsalli Park. Last year we had over 240 girls sign up for this program. Assignment to leagues is based on age, from T-Ball to Majors (ages 5-16).  PAL-GAL Softball is dedicated to teaching girls and young women the values and rewards that can be accomplished through self-determination, belief in one's self, desire, teamwork and respect for others.
Contact us at:
601 El Camino Real, Santa Clara, 95051
Phone: 408-615-4880
Fax: 408-984-1407
Email: scpalgalsoftball@gmail.com
2017 LEAGUE INFORMATION
2017 Season Schedule (link to viewable schedule) – TBD
2017 Standings (link to viewable standings)
MAJOR LEAGUE – TBD
13 – 16 years old.  Must be 13 years old as of 1-1-2016.  New and returning players not returning to the same team must attend the Major League Tryouts for team placement Saturday, April 16th, 2:00pm-4:00pm and Saturday, April 23rd, 9:30am-11:30am.  Tryouts are held at Central Park.  Practice begins in May; play begins in early June and ends in late July.  Reminder: No metal cleats.
Click blue hyperlink for Application: 2017-pal-gal-player-application
Revised since 2015:  Players will be allowed to "move up" pending a tryout and approval of managers/coaches and Softball Committee.
SANTA CLARA SPARKS TOURNAMENT TEAM INFORMATION
The Santa Clara Sparks are Santa Clara PAL-Gal Softball League's competitive summer travel ball teams for 8U, 10U, 12U and 14U. The Sparks players are selected from girls playing in SC PAL-Gal spring recreational season and teams are formed after the player tryouts in May. These teams play competitive softball, competing in weekend tournaments with teams from other softball leagues. The Sparks teams are a great way for girls who love softball to experience what competitive softball is like. The players will develop new skills and take their game to a new level. It is more serious… but still great fun and an experience that they'll never forget. Check out the flyer below for tryout dates and more information about the teams. If you have further questions about the Sparks teams please email us at: scpalsoftball@gmail.com.
37th ANNUAL TONY SANCHEZ INVITATION SOFTBALL TOURNAMENT
Check out our flyer (2016 Tony Sanchez Softball Tournament Flyer) for more information about our tournament being held on May 27-29, 2016! Go to http://gfp.tournamentasa.com/80/ to register! For "C" teams only.
MANAGERS/COACHES CORNER
 Sign-up to be a COACH: COACH'S APPLICATION
ALL Managers and Coaches must take the mandatory ACE Test prior to the start of the season.  P.A.L. will reimburse the test cost of Managers and Coaches.
Go to: https://www.registerasa.com/Account/Login.aspx?ReturnUrl=/default.aspx
Helpful links for running a better practice:
http://www.softball-spot.com/fun-softball-practice-drills/103/
http://www.softballperformance.com/coaching-softball-how-to-run-a-bad-practice/
http://www.softballperformance.com/softball-drills/
For approved bats to use or purchase, see: www.asasoftball.com/about/getManufacturerDetail.asp
LEAGUE AND DRAFT RULES
T-Ball League – Rules-T-Ball-Division-REV-1-8-2016

Farm League – Rules-Farm-Division-REV-3-15-2016

Rookie League – Rules-Rookie-Division-REV-1-27-2016

Minor League – Rules-Minor-Division-REV-1-27-2016

Major League – Rules-Major-Division-Rev 1-7-2015
Rookie League and Minor Draft League Rules – Rookie-Minor-Draft-Rules-REV-01-26-16

Major League Draft Rules – Major Draft Rules REV 1-8-2013