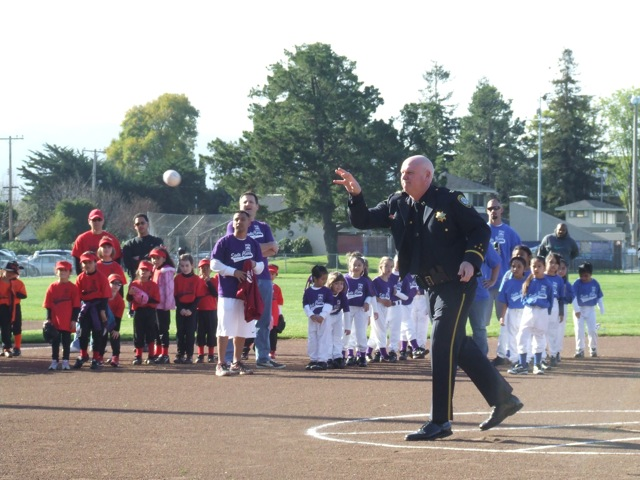 MARK YOUR CALENDARS! UPCOMING DATES
Saturday, February 13  – Players Skills Clinic and Mandatory Coaches Clinic – Central Park Fields
* Click for flyer: Players and Coaches Clinic 2016 - Cost: $10 per player
T-Ball/Farm players – 9:00 a.m. to 10: 30 a.m. / Rookies/Minor players – 11:00 a.m. to 12:30 p.m.
Saturday, February 27, 2016 – Opening Day events starting at 8:00 am – Central Park Fields
* Pancake breakfast, Opening ceremonies, picture day, season games begin!
Saturday, May 7th – Family Fun Day
Look for more info to come!
 WELCOME TO PAL GAL SOFTBALL!
GIRLS, if you are between the ages of 5 and 16 and want to play softball, you should sign-up to participate in the Santa Clara Police Activities League's PAL-GAL GIRL'S SOFTBALL Program. Everyone plays and the practices are local. Seasons generally run from March to May, with tryouts and practices starting in late January/early February.
Girls participate in softball games played at Central Park and Marsalli Park. Last year we had over 240 girls sign up for this program. Assignment to leagues is based on age, from T-Ball to Majors (ages 5-16).  PAL-GAL Softball is dedicated to teaching girls and young women the values and rewards that can be accomplished through self-determination, belief in one's self, desire, teamwork and respect for others.
Contact us at:
601 El Camino Real, Santa Clara, 95051
Phone: 408-615-4880
Fax: 408-984-1407
Email: scpalgalsoftball@gmail.com
2016 REGISTRATION INFORMATION
Read/print flier: 2016 Pal Gal Flier
Fill out 2016 PAL GAL registration form
NOW accepting registration for T-ball, Farm, Rookie and Minors!
Dates: December 1-18, 2015 and January 4-22, 2016
Times: 1:00 pm – 5:00 pm
Where: PAL Office, 601 El Camino Real, Santa Clara, CA 95050
Or call PAL Office first at 408.615.4879. PAL accepts MasterCard/Visa/Discover credit cards in person. You can also fax, mail, or email PAL GAL registration form along with a copy of your child's birth certificate.
Fax: 408.984.1407
Email:nhelvie@santaclaraca.gov
COST (Includes Uniform-Jersey and Socks, Awards, and Insurance):
$85.00 per player
$115.00 for players playing both Minors and Majors
$135 for two family members and $195 for three family members
Scholarships are available in exchange for volunteer work (Please call the P.A.L. office to apply; also documentation is required even for returning players).
2016 LEAGUE INFORMATION
2016 Season Schedule (link to viewable schedule) – TBD
2016 Standings (link to viewable standings)
T-BALL LEAGUE
**Any interested 4 year olds that want to play, contact us at scpalsoftball@gmail.com!!**
5 AND 6 years olds.  Must be 5 years old as of 1-1-16.  Players not returning to the same team as last year will be placed by address location or by request.  Non-metal cleats are optional for T-Ball League only.
FARM LEAGUE
7 AND 8 years old.  Must be 7 years old as of 1-1-16.  To even out teams, a limit of 5 girls per team will be placed on Team/Manager they request on application. No metal cleats.
ROOKIE LEAGUE
9 AND 10 years old.  Must be 9 years old as of 1-1-16.  Every player (new and returning) will tryout and be drafted.
MINOR LEAGUE
11-13 years old.  Must be 11 years old as of 1-1-2016.   Every player (new and returning) will tryout and be drafted.  No metal cleats.
MAJOR LEAGUE
13 – 16 years old.  Must be 13 years old as of 1-1-2016.  New and returning players not returning to the same team must attend the Major League Tryouts for team placement Saturday, April 16th, 2:00pm-4:00pm and Saturday, April 23rd, 9:30am-11:30am.  Tryouts are held at Central Park.  Practice begins in May; play begins in early June and ends in late July.  Reminder: No metal cleats.
Revised since 2015:  Players will be allowed to "move up" pending a tryout and approval of managers/coaches and Softball Committee.
LEAGUE AND DRAFT RULES
T-Ball League – Rules-T-Ball-Division-REV-1-8-2016

Farm League - Rules-Farm-Division-REV-1-8-2016

Rookie League – Rules-Rookie-Division-REV-1-27-2016

Minor League – Rules-Minor-Division-REV 1-7-2015
Major League – Rules-Major-Division-Rev 1-7-2015
Rookie League and Minor Draft League Rules – Rookie-Minor-Draft-Rules-REV-01-26-16

Major League Draft Rules – Major Draft Rules REV 1-8-2013
MANAGERS/COACHES CORNER
 Sign-up to be a COACH: COACH'S APPLICATION
ALL Managers and Coaches must take the mandatory ACE Test prior to the start of the season.  P.A.L. will reimburse the test cost of Managers and Coaches.
Go to: https://www.registerasa.com/Account/Login.aspx?ReturnUrl=/default.aspx
Helpful links for running a better practice:
http://www.softball-spot.com/fun-softball-practice-drills/103/
http://www.softballperformance.com/coaching-softball-how-to-run-a-bad-practice/
http://www.softballperformance.com/softball-drills/
For approved bats to use or purchase, see: www.asasoftball.com/about/getManufacturerDetail.asp